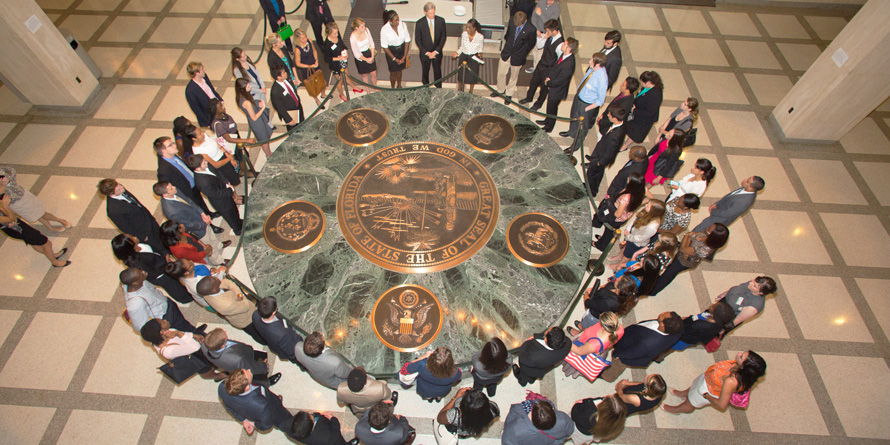 Since 1992, we have hosted the award-winning Donald J. Weidner Summer for Undergraduates Program at the College of Law.
This program brings to campus undergraduate students from throughout the country for a month-long immersion into legal study. The largest and oldest of its kind, the primary goal of the program is to acquaint students with the study of law and to assist them in acquiring skills that will benefit their undergraduate and future law school studies. The program has been twice honored by the American Bar Association's Raymond Pace and Sadie Tanner Mossell Alexander Award for Excellence in Pipeline Diversity. The award is given to organizations or individuals who have shown innovation and leadership in diversifying the educational pipeline to the legal profession.
Overview
The 2021 Donald J. Weidner Summer for Undergraduates Program will take place mid-summer. During the four-week program, students will engage in activities covering three primary areas:
Classroom Experience — Daily classes are taught by law school professors. Lectures simulate first-year law classes and familiarize students with the functions of the American legal system. Writing workshops help students to develop their writing and communication skills.
Law School Admissions Process — Students are given the opportunity to talk to the admissions staff and committee regarding the important aspects of the law school application process. This includes practical workshops on completing the application, writing personal statements, LSAT preparation, writing resumes and cover letters, financing law school, and individualized career planning.
Careers in the Law — While the program is academic in nature, there are a number of exciting and enjoyable activities that take place outside of the classroom, such as: visits to the Florida Supreme Court and local law firms, moot court oral arguments, and visits from prominent attorneys in a variety of practice areas.
Thanks to the continued support and generosity of Florida State Law alumnus Wayne Hogan ('72), President of Terrell Hogan, and his wife, Patricia, the program has a financially secure future. In 2000, the Hogans designated part of a $2 million gift to the law school to endow the program. Their 2003 gift of an additional $1 million allows the law school to permanently maintain the size of the program at approximately 60 students each year.
Program Information
Eligibility
College students enrolled at two-and four-year institutions, in all majors and from all backgrounds, are invited to apply following their freshman year. We particularly welcome students from groups historically underrepresented in the legal profession. Because one purpose of the program is to help students direct their remaining time in college to best prepare for law school, only rising sophomores, juniors, and seniors are eligible to participate. Students who will have earned their bachelor's degree prior to the start of the program will not be eligible for admission.
Program Costs
There is no tuition or room and board charge for this program.  Florida State Law provides all meals, residence-hall accommodations, course materials, and a stipend to all participants. Students are responsible only for their travel expenses to and from Tallahassee.
How to Apply
The application process is very competitive. However, each application is carefully reviewed in its entirety by the program's admissions committee prior to selection. The application will open on January 1, 2021.
In order to apply, students must provide the following:
a completed application for admission

a current resume

a personal statement

one letter of recommendation

a current transcript
Applicants can submit all required documents online using our electronic application.
---
For more information about our Summer for Undergraduates Program, please visit our Frequently Asked Questions page or contact the Office of Student Advancement at 850.644.7338. 
Email: summerprogram@law.fsu.edu
title-inside title-centered
2